Entries in Barbara Walters (2)
Friday, December 23, 2011 at 12:21PM
Aminah Hanan
Post a Comment
|
tagged
20/20,
Barbara Walters,
Michelle Obama,
President Obama
in
Michelle,
Video
Tuesday, November 16, 2010 at 02:14PM
Aminah Hanan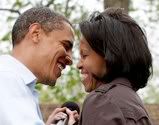 First Lady Michelle Obama and the President will be joined by Barbara Walters for a joint Thanksgiving interview. The one-hour special will air Friday, November 26th at 10pm ET. According to ABC News' Press Room...
In addition to focusing on some of the major challenges facing the President today, part of the conversation will be a discussion of how the whole family reacted to the President's political reversal. This interview will be Mrs. Obama's first since the mid-term elections. The special marks the second time the President and First Lady have sat for a joint interview with Ms. Walters; the first was November of 2008, immediately following the presidential election. The interview will be conducted in the White House on Tuesday, November 23rd.
Here's a look back at one of my favorite segments from the First Couple's first joint interview with Ms Walters back in 2008...
tagged
ABC,
Barbara Walters,
Michelle Obama
in
Michelle,
Video