Wednesday, May 11, 2011 at 03:32PM
Sister P, Contributor
It was no surprise to read that Mrs. Obama, being as modern and hip as she is, would invite a hip-hop artist to an event promoting and honoring poetry. Hip-Hop or Rap is called Rhythmic American Poetry.
What was surprising was how quickly the usual detractors picked up their broad brush and painted all hip-hop artists the same hue. Plenty of blogs and even a White House Spokesperson has defended rapper Common, who is the artist at the center of this recent storm from the neo-cons.
However, Common is not the topic of this post and hip-hop is not the focus of this website. Mrs. O is.
I didn't see any writing in the blogosphere that talked about this invitation as a classic example of Mrs. Obama's style. She is a contemporary first lady.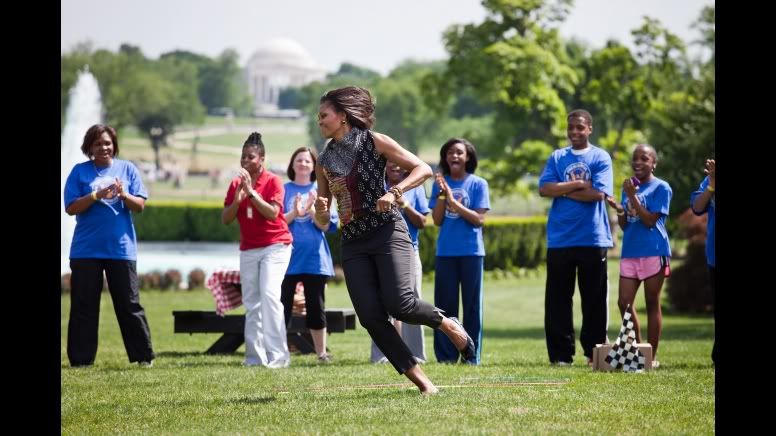 Merriam-Webster defines contemporary this way:
Contemporary : happening, existing, living, or coming into being during the same period of time; modern, current
Mrs. O is not from some generation of old. She is in "the now". She uses Beyonce' to get children moving and she uses hip-hop to get children interested in rhyme. And in a dramatic turn of events, Mrs. O will be able to use hip-hop to expand the entire Nation's knowledge beyond the classical characteristics of a poet.
This type of inclusion is what got her husband elected. Though I don't believe that the initial invitation extended to Common was one that was intended to be a "vote grabber", I do believe that Mrs. O just won some cool points with those who know Common and his work and in turn shows that she is a tremendous asset to her husband's career in politics.
This event, which can be viewed here later tonight at 7 p.m. ET, is another contribution by Mrs. O to our collective cultural education.