Sunday, August 23, 2009 at 12:52PM
Aminah
Yes. yes. I've been in a cave somewhere for the past two weeks and apparently all Hades broke loose when First Lady Obama decided to don shorts to go visit the desert. GASP! The Horror!
"Michelle Obama: The Shorts Heard Round the World" — A headline in TIME magazine following the first lady's decision to — gasp! — wear shorts.

"Yes She Can! 59% of Readers Say Michelle Has Right To Wear Shorts
" — A Huffington Post headline on the same topic.
Politico.com
How dare she not don woolen slacks or an ankle length skirt when visiting a blistering hot national park with her school age children. After all, the most important thing when on vacation with small children is making sure others aren't offended at the sight of your legs. Oh get a grip people. Heaven help us if she goes to the beach and wears GASP swimwear.
At the end of the day, the message is the same, people don't think First Lady Michelle Obama is "worthy" of being First Lady of the United States. Well she is... and she wears shorts and occasionally goes sleeveless. BTW I think her outfit at the Grand Canyon was far more appropriate than this ensemble she wore to dig up the White House garden.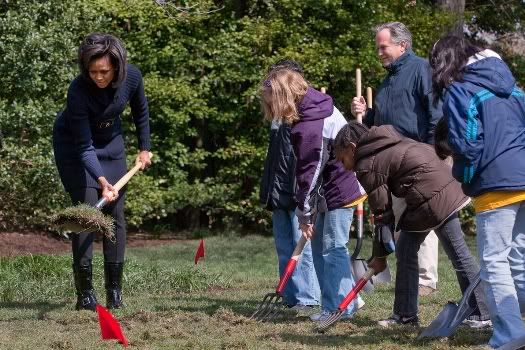 Who gardens in this get up with hair and makeup looking FLAWLESS? Happy vacay First Lady Obama, you deserve it after all of this foolishness!